Welcome to APL India Packers and Movers Noida, a well-known name in the packing and moving services sector since its establishment in 2003. Recognized globally for delivering top-notch performance, we hold ISO-Approved Packers and Movers in Noida. With a robust network spanning 1264 local locations and a strong presence in 12 states, we cater to the shifting requirements of individuals, commercial organizations, corporate entities, public sector units, multinational companies, and more.
As a leading moving company in Noida, we possess the expertise to facilitate your seamless relocation to another state or overseas, leveraging our extensive knowledge and resources. Ensuring the security and safety of your valuable belongings is our primary concern during your move. We take pride in being trusted relocation partners, having successfully served over 19.67 lakh satisfied customers worldwide.
Specializing in a range of safe transport services, including International Moving, Domestic House Shifting, Local Home Shifting, Car Shifting Services, Bike Shifting Services, and Home Shifting Supply Chain Management, we are committed to meeting the diverse needs of our dedicated customers.
In our pursuit of safe and fast transportation service, we employ cutting-edge technology and logistics industry best practices. Our goal is to achieve maximum client satisfaction by offering customized logistic solutions at competitive price quotes.
Through the integration of modern thinking with traditional values, we continually redefine the quality standards of our moving services. Our esteemed position in the moving industry is a testament to our expertise, knowledge, and skilled workforce.
Your Reliable Relocation Partner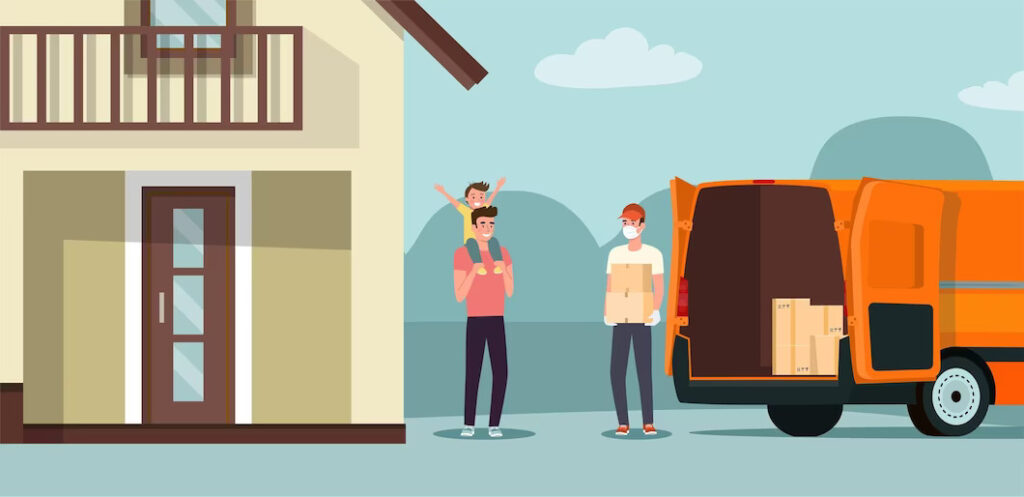 Services Offered by APL Packers and Movers Noida
House Shifting Service in Noida
Our offers a range of services for individuals planning to relocate within or outside Noida. Our domestic household shifting in Noida is among the best, providing damage-free house shifting services throughout India. We tailor our relocation strategy to accommodate your schedule and budget-friendly.
Office Shifting Service in Noida
For office shifting in Noida, Our Best Packers and Movers provide convenient and efficient corporate shifting services in Noida. As one of the top commercial shifting services in Noida, we operate across India, ensuring the safe transport of your office goods to the new location.
Intercity Relocation in Noida
Our intercity relocation service in Noida specializes moving people across India, with a focus on relocation. APL India Packers & Movers boasts a nationwide network of urban and rural packers and movers.
Interstate Home Shifting in Noida
If you're looking for reliable interstate home shifting services in Noida, We are a recognized leader in providing interstate and international relocation services in Noida. Our customized plans factor in your resources, project costs, and the size of items to be moved.
Warehouse/Storage Service in Noida
We also offer secure warehouse/storage services in Noida, keeping your furniture and belongings safe during your move. We provide various storage options based on your needs and duration.
Car Transport Service in Noida
When it comes to moving vehicles, APL India Packers and Movers is known for its efficient car transport services in Noida. We prioritize the quick and secure delivery of vehicles, ensuring owners have peace of mind throughout the car shifting process.
Bike Transport Service in Noida
For bike relocation, Our Bike Shifting takes care of the entire process, from inspection to packing, loading, transport, unloading, and a final inspection. Our Bike Transport Services in Noida utilize high-quality packing materials and cutting-edge equipment.
Commercial Service in Noida
In the realm of commercial shifting, APL India Packers provides packers and movers services with 24/7 security for stored items. Our warehouses feature state-of-the-art temperature control and security, offering peace of mind for storing furniture, artwork, business supplies, and professional equipment.
Best Packers and Movers in Noida
APL India Packers and Movers stand out as one of the Best Packers and Movers in Noida, renowned for their unparalleled expertise and extensive experience in delivering exceptional relocation services. Recognizing the importance of your possessions, they prioritize their safety throughout the process. The highly proficient team at APL India Packers and Movers Noida manages every aspect of the move, from meticulous packing to careful unpacking, demonstrating a commitment to professionalism and utmost care.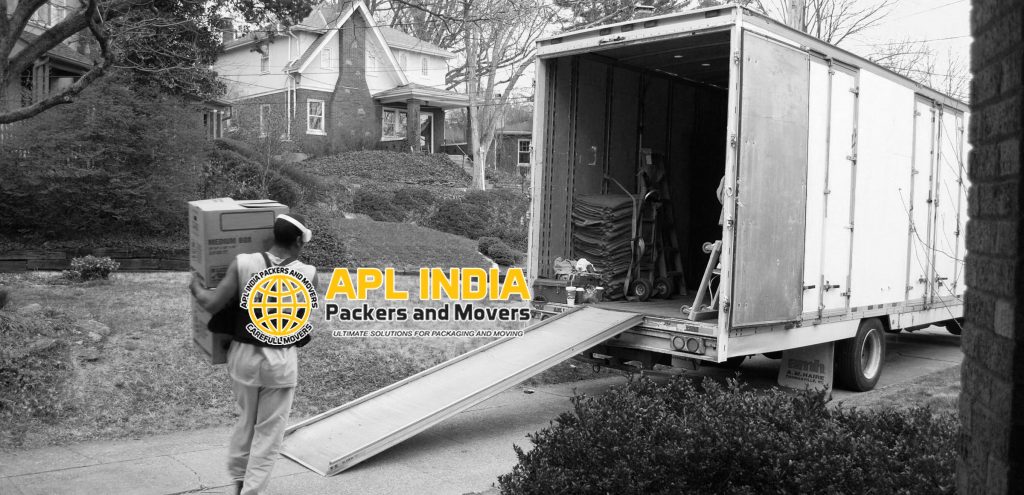 Offering a comprehensive range of services, including household shifting, office relocation, vehicle transportation, and more, Our Best Movers and Packers has established itself as the preferred choice for seamless and trustworthy moving solutions in Noida. Their dedication to customer satisfaction and efficient service have earned them a solid reputation.
Having garnered the trust of over 2000K+ satisfied customers continues to enhance its services. This includes improvements in packing, shipping, office, and residential relocation, industrial relocation, and the relocation of storage facilities, all provided at the most competitive prices.
Hire Top Packers and Movers in Noida Guide
Managing home shifting in Noida, can be overwhelming due to the numerous tasks involved. It is advisable to hire professional packers and movers who specialize in packing and moving services in Noida. Planning and preparation are crucial for smooth home-shifting services in Noida. Local Packers movers in Noida excel in disassembling household appliances like TV, AC, geyser, washing machine, and kitchen appliances, and packing substantial furniture items such as beds, wardrobes, dining tables, chairs, and center tables.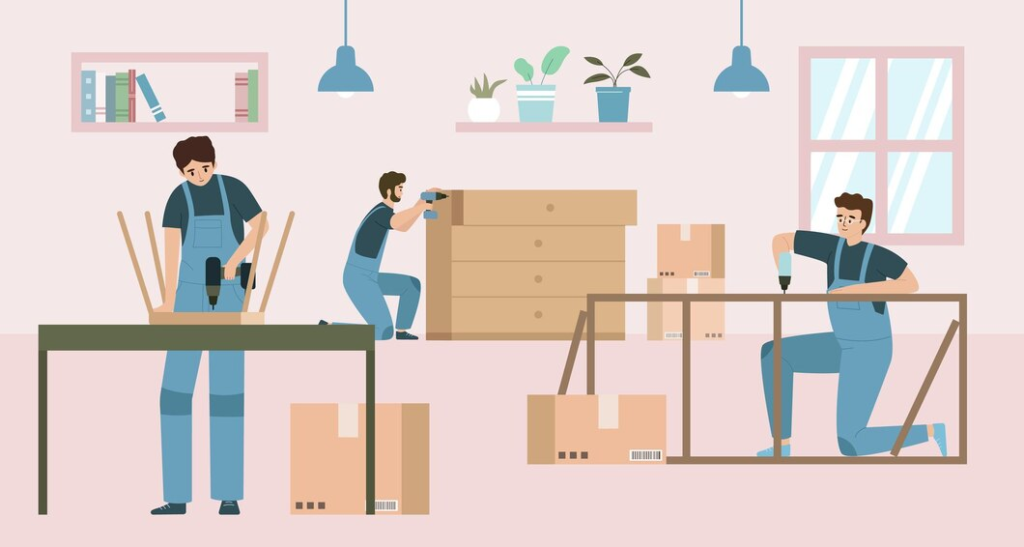 The process includes loading goods onto the house shifting transport, unloading, and reassembling, which can be challenging for individuals unfamiliar with the intricacies of moving. Noida packers and movers bring expertise to the table, ensuring careful packing and safe transit without damage. Top packers and movers in Noida employ high-quality materials like bubble wraps, corrugated sheets, packing peanuts, papers, and plastic sheets to secure items adequately. They also specialize in furniture shifting, using advanced tools like dollies, trollies, hand trucks, moving blankets, sliders, and moving straps for safe loading onto trucks.
While packers and movers in Noida offer affordable services, it's essential to choose reliable ones to avoid hidden charges and potential fraud. Due diligence involves verifying the moving company in Noida, checking registration documents, and GSTIN numbers, and reading reviews and ratings. Some moving firms provide insurance coverage for home shifting services in Noida, offering additional security. For local shifting, recommendations from friends and family or online searches for "Best packers and movers near me" can help find trustworthy options. For domestic relocation, searches like "Best inter-state packers and movers Noida" yield suitable results.
APL India Packers collaborates with top moving services in Noida, ensuring reliability through a rigorous verification process. Home shifting companies partnered with APL India Packers and Movers guarantee experienced movers and packers in Noida. Clients can choose from the enlisted packers and movers in Noida or fill out a query form for assistance in selecting the top three movers and packers in Noida nearby. APL India Packers and Movers customer support team aids throughout the house-shifting service in Noida, allowing clients to enjoy the city's classic monuments while professionals handle the relocation process.
Packers and Movers Charges in Noida for Local Shiftinng
| Price Breakup/ House Size | 1 BHK | 2 BHK | 3 BHK |
| --- | --- | --- | --- |
| Packing Costs | ₹ 1,200 – 2,600 | ₹ 1,800 – 4,000 | ₹ 2,300 – 5,300 |
| Labour Charges | ₹ 900 – 1,900 | ₹ 1,300 – 2,700 | ₹ 1,600 – 3,200 |
| Transport Rates | ₹ 2,700 – 6,500 | ₹ 3,500 – 9,800 | ₹ 5,600 – 13,000 |
| Total Moving Price | ₹ 4,400 – 11,000 | ₹ 6,600 – 16,500 | ₹ 9,500 – 22,000 |
Note: The local shifting charges given above are approximate and may vary depending on the weight, distance, and packaging quality of the item.
Movers and Packers in Noida Cost for National Shifting
| Move Type/Distance | Up to 350km | 350 – 750 km | 750 – 1200 km | 1200 – 1700 km | 1700 – 2300 km |
| --- | --- | --- | --- | --- | --- |
| 1 BHK | ₹ 11,550 – 20,350 | ₹ 13,750 – 22,000 | ₹ 16,000 – 23,650 | ₹ 18,700 – 26,400 | ₹ 20,900 – 29,700 |
| 2 BHK | ₹ 14,850 – 24,750 | ₹ 17,600 – 28,050 | ₹ 20,350 – 30,800 | ₹ 23,100 – 35,200 | ₹ 26,400 – 39,600 |
| 3 BHK | ₹ 18,150 – 29,150 | ₹ 20,900 – 33,550 | ₹ 23,650 – 37,950 | ₹ 27,500 – 41,800 | ₹ 31,900 – 47,300 |
| 4 BHK/Villa | ₹ 23,100 – 34,100 | ₹ 26,400 – 38,500 | ₹ 29,700 – 44,000 | ₹ 34,100 – 47,300 | ₹ 38,500 – 55,000 |
| 4-Wheeler | ₹ 5,500 – 9,900 | ₹ 7,700 – 13,200 | ₹ 9,350 – 15,950 | ₹ 11,550 – 19,250 | ₹ 13,200 – 22,000 |
| 2-Wheeler | ₹ 2,750 – 5,500 | ₹ 3,520 – 6,600 | ₹ 4,620 – 8,140 | ₹ 6,600 – 11,000 | ₹ 7,500 – 12,400 |
Note: The domestic shifting charges given above are approximate and may vary depending on the weight, distance, and packaging quality of the item.
Transportation Charges in Noida Depending on the Type of Truck
| House Size/ Truck Type | Shared Truck | Dedicated Truck |
| --- | --- | --- |
| TATA ACE & Bolero | ₹ 12,000 – 17,800 | ₹ 19,100 – 27,200 |
| Tata 407 & 709 | ₹ 15,300 – 23,100 | ₹ 24,500 – 35,500 |
| 14 Feet Eicher Truck | ₹ 17,800 – 28,500 | ₹ 28,400 – 43,700 |
Note: Please be aware that transportation rates may differ based on the distance from Noida to your destination city. The estimated charges for house shifting transportation are calculated for distances ranging from 750 to 1200 kilometers. For more detailed information on Packers and Movers Noida Charges.
Ways to Estimate Packers and Movers Fees, Costs and Rates?
Packing and moving is a task that requires more than one person; it demands a significant investment of time and manpower to ensure the success of a home relocation. Various factors influence the pricing of movers in Noida, including the choice of packaging materials, distance, and transportation methods.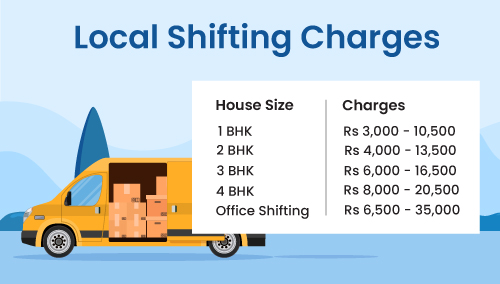 When estimating the costs associated with household shifting services in Noida, several considerations come into play. The quantity of household goods, especially delicate items requiring special attention and specific packaging materials, contributes to the overall expenses. Additionally, factors such as the current floor of residence, the presence or absence of a lift in the building, and the distance between the truck location and your home can affect the charges. Labor charges may vary based on the effort required for loading and unloading, particularly when furniture moving in Noida.
Truck rental services play a crucial role in determining the overall cost of moving services in Noida. The choice between a shared truck and a dedicated truck impacts the pricing, with shared trucks generally being more cost-effective. However, dedicated trucks offer the advantage of confirmed delivery on a specified date. Shared trucks, on the other hand, may lack delivery certainty and could take a longer time, as the packing company in Noida may wait for the truck to be filled with goods.
Additional charges may apply for services such as disassembling home appliances (e.g., TV, AC, geyser), and if you request reassembly at your destination, it could contribute to extra mover packer Noida charges. It's important to note that unpacking and reassembly services for home appliances are applicable only for local room-shifting services in Noida. If the moving company has a branch at your new destination, they might assist with unpacking and reassembly.
What to do While Hiring Verified Packers and Movers in Noida?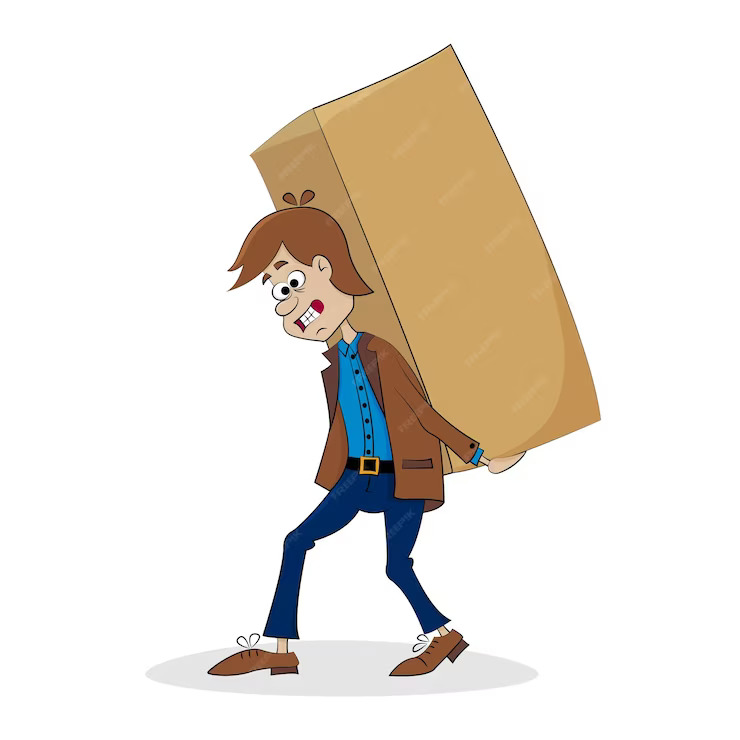 Finding Verified Packers and Movers in Noida can be challenging and risky due to the prevalence of fake and unprofessional moving companies in the market. Follow these guidelines to avoid mishandling, misplacement, or fraud by fraudulent packers and movers in Noida.
Verify Company Details: Check the moving company websites for comprehensive and accurate information. Look for details such as years of experience in home shifting in Noida, services offered, etc. Validate contact numbers and office addresses listed on the 'Contact Us page by calling and visiting the mentioned locations.
Confirm Legal Certifications: Ensure that the Movers Packers Noida possess valid GST certificates authorized by the Government of India. Verify the owner's identity through official documents like an Aadhaar Card, PAN card, etc.
Assess Service Quality: Double-check the quality of packing materials used by Packers Movers Noida, as well as the types of moving equipment employed. Inquire about the methods they follow for packing, moving, and handling goods.
Examine Reviews and Complaints: Explore reviews on platforms like Google, Mouthshut, Trustpilot, Facebook, etc., to gauge the real-time service quality of luggage shifting company in Noida. Check for any pending complaints against them.
Compare Cost Estimates: Compare cost estimates from multiple top 5 packers and movers Noida to identify the most suitable agency offering affordable relocation rates. Be sure to check for hidden charges before finalizing your decision.
Avoid the Cheapest Option: Steer clear of the cheapest packers and movers in Noida, as this could be indicative of poor quality or potential fraud. Option for verified transportation company in Noida that provide value-for-money services—good quality room relocation services at affordable prices.
Negotiate for Better Offers: Negotiate with the verified movers and packers in Noida to secure better offers and discounts. Encourage them to beat or at least match the pricing offered by their competitors.
Review and Clarify Terms: Carefully read the contract and terms & conditions provided by the best movers and packers in Noida. Clarify any doubts before signing the home relocation agreement. Additionally, ensure you obtain the original insurance policy documents from the moving company after payment.
What are the Risks of Moving Alone?
Home or office shifting isn't everyone's forte; while some may opt for a DIY move, it's deceptively challenging. In Noida, relocating a residence involves a series of tasks, including packing, disassembling appliances, careful packing, loading, unloading, and transportation—a lot to handle.
Here are key distinctions between hiring reliable packers and movers in Noida versus self-moving.
Let's begin with the foundational step—packing. Packing demands skill, knowledge, and ample materials, especially for fragile items. When you handle packing independently, you grapple with where to start, how to organize, and the quantity of materials needed. On the other hand, if you enlist Noida packers and movers, they know precisely where to begin, how to organize, and the right amount and type of packing materials. It not only saves time but ensures a more efficient process.
Once the household goods are packed, the challenging task of loading and unloading arises. Moving large items, such as refrigerators and wardrobes, requires expert hands to prevent damage to items, yourself, or the property. If you opt for a DIY move, you may lack sufficient manpower. In contrast, hiring reliable packers and movers in Noida means they handle the packing and moving with ease, equipped with tools like furniture sliders, moving dollies, hand trucks, forklifts, and other essentials for handling heavy items.
After loading, attention shifts to arranging transport or a truck rental in Noida for house shifting. Researching and selecting the right carrier can be time-consuming and may lead to mistakes. However, if you engage a reputable packers and movers company in Noida, they bring a suitable carrier based on a pre-move survey that cataloged all items to be shifted.
Disassembling and reassembling goods poses its challenges. Without knowledge of the proper procedures, you risk damaging appliances or injuring yourself during the room-shifting process. Professional Movers and Packers in Noida, being experienced, handle these tasks swiftly and accurately.
Self-moving often involves overlooking crucial aspects in pursuit of budgetary constraints, leading to higher costs, unnecessary stress, and time wastage. Damaged goods during the relocation mean out-of-pocket expenses. In contrast, professional packers and movers in Noida often provide insurance coverage, offering a safety net for potential damages that can be claimed later.
What are the Tips to Reduce House Shifting Charges in Noida?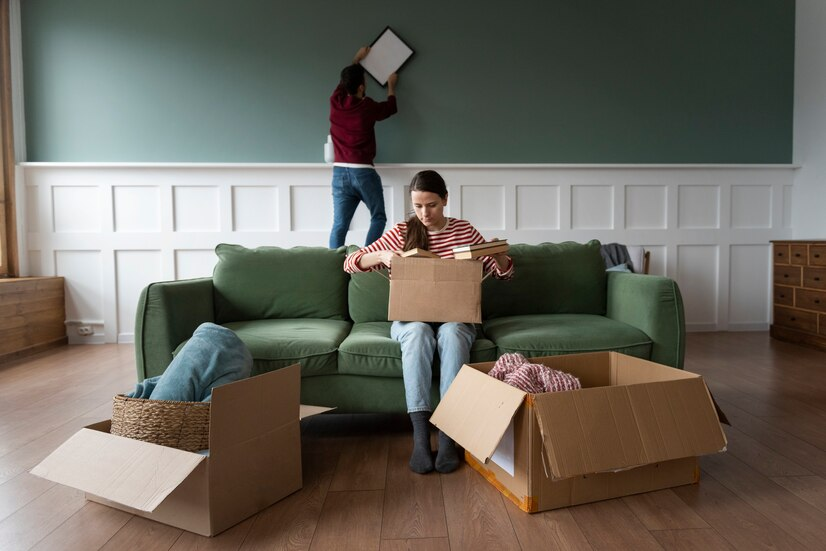 The rates offered by Intercity Packers and Movers Noida can vary among companies, depending on the specific services you require. It's important not to accept the initial cost estimates blindly. There are effective ways to minimize your packing and moving expenses while ensuring a smooth transition during your house moving in Noida.
Plan Your Relocation: Planning your move at least a month ahead of the moving date provides ample time to identify cost-effective and reliable relocation services in Noida. This also allows you to efficiently complete pre-move tasks.
Sort and Declutter Unwanted Items: The volume of belongings significantly influences the cost of local house shifting services in Noida. By decluttering and reducing the number of household items you bring to your new location, you can substantially lower your overall moving costs.
Compare Quotes from Multiple Movers: Recognizing that packers and movers cost estimates vary, it's advisable to obtain quotations from at least three relocation company in Noida. This facilitates easy comparison, enabling you to choose a service provider that aligns with both your requirements and budget.
Schedule the Right Moving Day: Movers and Packers in Noida may be busier and charge higher rates on weekends and at the end of the month. To avoid premium charges, schedule your move on an optimal day of the week and month. This strategic planning can contribute to significant cost savings.
By keeping these steps in mind during your move planning, you can optimize both the time and expenses associated with the relocation process.
Local Packers and Movers Service in Noida
Is the best packers and movers company in Noida We not only save your precious time but also your energy, which you can use for other valuable things. Local packers and movers in Noida do not believe in protecting your valuables goods. We are a lot more professional, safe, affordable and top packers and movers in Noida than local packers and movers . Your valuables goods are well handled by us and are better than any local packers and movers.
At the same time by us, the house shifting work can be completed much faster than you can imagine. You hire our skilled, professional packing and moving services in Noida. We have a convenient option of providing relocation services to all customers in Noida. We do all the shifting related tasks such as loading valuables goods, unloading valuables goods, safely packing fragile items and shifting to the right place on a large scale.
How APL India Packers Guarantees High Quality Services?
Verified Network of Packers in Noida
APL India Packers conducts thorough online and in-person verification processes for moving companies in Delhi before establishing partnerships with them. We meticulously verify all essential company documents, including GST, Aadhaar Card, PAN card, office location proof, and more, for packers and movers in Noida. Additionally, we assess their websites, offered services, and past performance records.
Well-Organized Directory of Moving Companies
Our list of packers and movers is systematically organized based on their performance in packing and moving services. You can easily filter and find suitable relocation companies in Delhi according to their star ratings, services offered, quality tags, or proximity to your location.
Instant Quotes from the Top 3 Movers in Noida
Upon posting your relocation inquiry with specific details, you will receive references from the top 3 packers and movers in Noida, along with estimated charges. All you need to do is compare company profiles, cost quotes from Noida packers and movers, the range of relocation services they offer, and customer reviews in one place to make an informed decision.
Regular Quality Maintenance Checks
Quality assurance is an ongoing process. At APL India Packers and Movers, we conduct routine service quality inspections of movers and packers Noida by gathering feedback from customers who have utilized home shifting services through us. Based on the responses from their previous customers, we take appropriate actions such as rewarding top performers with high ranks or penalizing poor-quality movers and packers for any inconvenience caused.
Prompt Support Throughout Your Move
From your initial contact with us until the final delivery of your goods at the destination, we provide comprehensive support during the house and vehicle shifting services in Noida. We can liaise with the best movers in Noida on your behalf to address any issues or recommend alternative moving companies. In cases of significant issues, such as payment disputes, concerns about the safety of goods, or legal problems, we can provide the necessary documentation for further action. If we receive serious complaints about our movers and packers in Noida, we may suspend or blacklist the moving company's profile.
Luggage Shifting by Reliable Packers in Noida
Instead of shouldering the burden of relocating your home in Noida on your own, consider engaging reputable moving companies in major cities such as Hyderabad, Mumbai, Bangalore, and other key locations across India. These companies specialize in offering secure domestic home shifting services in Noida promptly. Reliable Packers and Movers in Noida will assume full responsibility for the safe packing and transportation of your belongings, utilizing high-quality packaging materials such as bubble wrap, plastic wrap, packing paper, cartons, and corrugated boxes. They ensure secure loading and unloading using appropriate equipment like hand trucks, furniture sliders, dollies for appliances and furniture, panel movers, moving straps, ropes, and more.
Option for trustworthy home relocation services from authenticated packers and movers who undergo a thorough verification process, examining complete registration documents, office setup, and past performance history. Our affiliated relocation service providers are well-versed in various packing and moving services, including house shifting, car shifting, bike transport, office shifting, storage and warehouse facilities, cargo shipping services, international packers and movers services in Noida, and more. Simply share your shifting requirements with us, and within minutes, we will connect you with three of the most relevant and professional packers and movers in Noida. Receive free estimates for your list of moving services. Before making a decision, compare relocation company profiles, and luggage shifting charges, and read reviews and ratings of Delhi Packers Movers to ensure you hire the best service for your needs.
Location of Packers and Movers Service