TV Fridge Packing Moving
---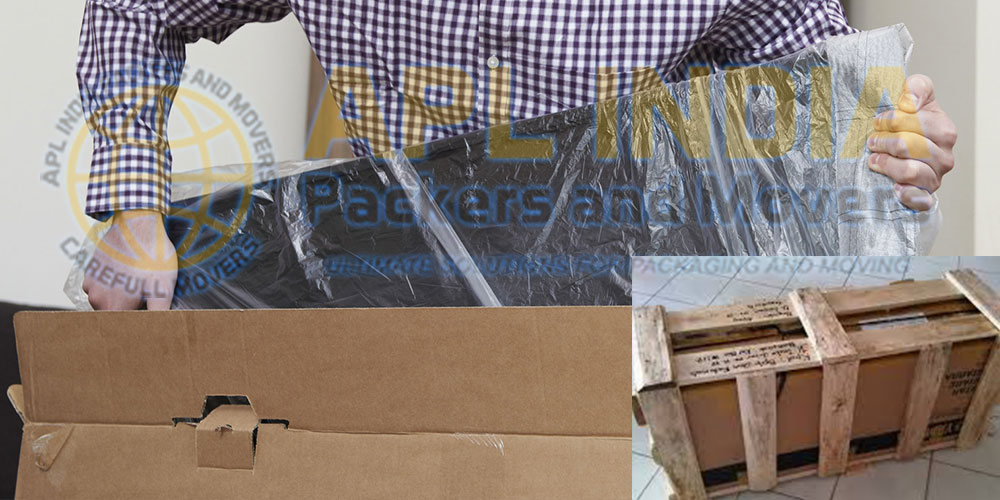 A happy life requires many things in a home. For example, with the help of almirah, cot, dressing table, dining table, television, fridge, utensils for cooking, gas stove, etc., we use to live a life for ourselves and our family. If for some reason we have to move our house and household goods to a new place or a new city, we hire professional and honest movers and packers to save our time and money, with the help of packers and movers we, they are able to safely transfer their goods from one place to another place or city. But for packing television and fridge, a lot of packing material has to be used. Fridges and televisions are the main, delicate and expensive items of the house. We use air bubble sheets, thermo-col sheets, brown paper, polythene sheets, etc. for the protection of the television and fridge.
To safely transport the fridge we first cover it completely with a thermo-col sheet, then we cover it with an air bubble sheet, after covering it with a bubble sheet, we cover all the corners with brown paper, from brown paper to corner protection After that, we cover the fridge with brown paper, then cover it with polythene sheet so that rain or any reason does not cause brown paper and water in the fridge and in the fridge Can be transferred without any loss of any kind and refrigerator safe without any trouble. Thermocol and air bubble sheets protect the fridge from dents and scratches etc.
Television is an electrical object found in every household nowadays. Television has to be very careful Because the front of the television has a mirror that can break during transfer. During television transfer, packing is done with an air bubble sheet, thermo-col sheet, and brown paper and we use a box made of wood for better protection of television. Thus, with greater security, customers are easily transported to the destination chosen by them.
TV Moving
TV is the main thing in household goods when you are going for relocation for domestic or local and need extra care during the relocation period. today time every person has a smart TV and that is a very fragile thing. the proper way of loading plays an important role in TV relocation. If we are loading at a comfortable place in a vehicle then it is reaching its destination in a safe condition. When you are moving, be careful about TV and Load in a vehicle with a careful and adjusted place. APL India Packers and Movers have a well-trained team and they can load all fragile items in the proper way.
Fridge Moving
Fridge also dedicated things and we can't load in vehicles as TV loading. If we have a professional loading person they can fit Fridge in the vehicle with safety and we can get safe at our destination.
 APL India Packers and Movers is the expert company for the relocation of all fragile items. We have our container vehicle for relocation of  TV, Fridge, etc.
We will care for all fragile items while relocation happens. Our well-trained loader and packing team know very well how to relocate them safely.
Sometimes we are getting scratches and damages in fragile items but APL India Packers and Movers assuring for safety while shifting from one city to another or Local.